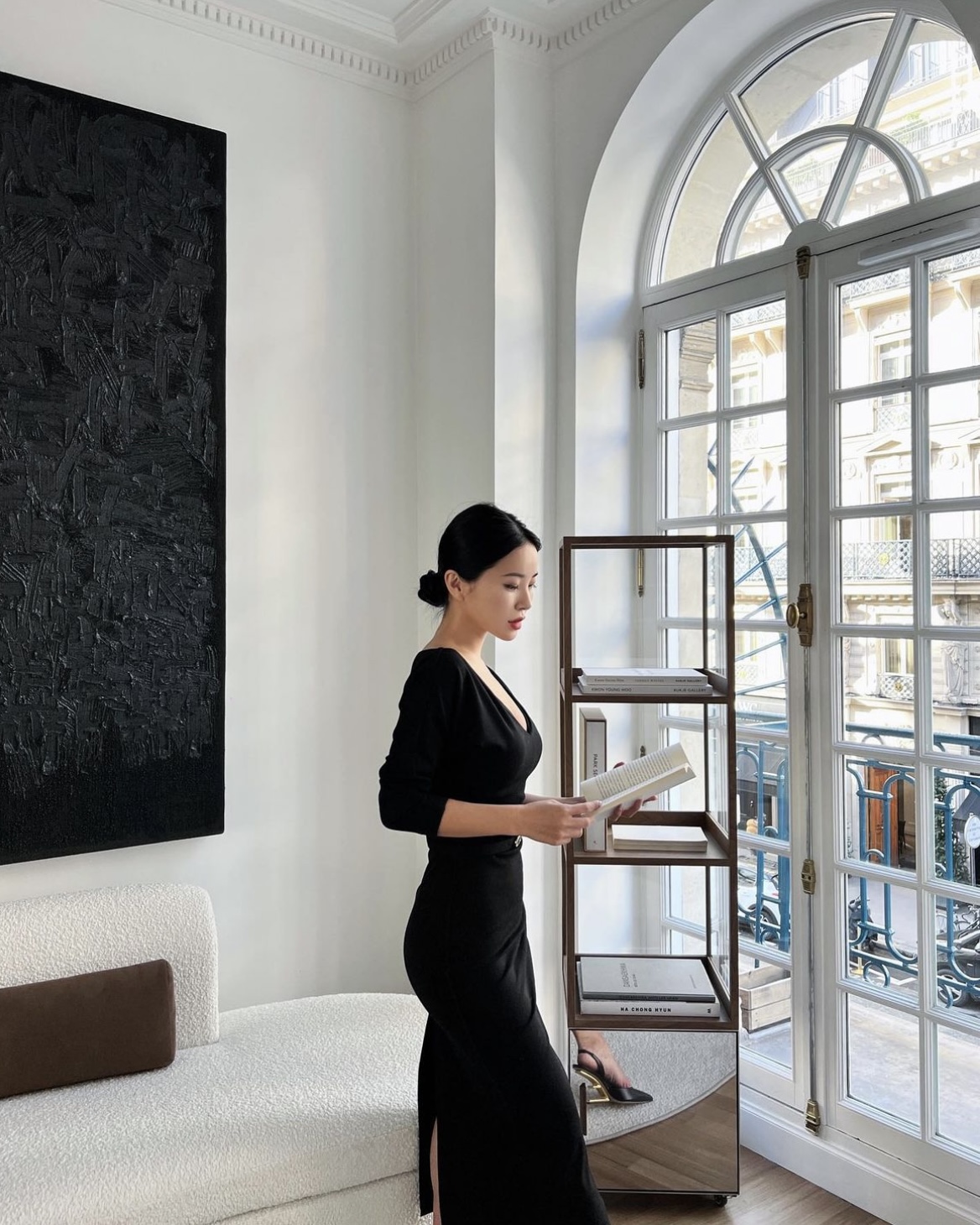 SU PARK
Executive Director / 총괄 디렉터
Maison suri / Suri Paris
---
Su is a Korean creative director in art & culture based in Paris, Seoul, and New York. Passionate about cross-cultural exchange, she works in various international projects to create memorable experiences and bring together the best of both worlds, between the East and the West. Alongside running her curatorial platform Maison Suri and lifestyle brand Suri Paris, Su also oversees private collection and alternative asset management serving as an international director at a family office in Korea.
Upon the arrival of Art Basel in Paris, Su directed the newly opened Paris branch of Kukje, nation-leading Korean gallery, and earlier in the same year introduced immersive exhibitions highlighting Korean contemporary art to global audience during the inaugural Frieze Seoul in 2022. Previously she has worked as a corporate partnership director of hospitality projects for the 2018 PyeongChang Olympic and as an assistant producer of art & culture program at Arirang. Her presence as a global ambassador has been recognized by government institutions and luxury brands, many of which she continues to work closely with to engage organic narratives and foster a vibrant bridge.
Her academic background of a BA in Art History combined with her love for art as a collector, creator and curator, Su aims to channel her engagement in the art world as a guiding voice to the emerging generation and to contribute in building new environments to heal and inspire people through art.
파리, 서울, 미국에서 미술과 패션, 디자인 분야를 다양하게 넘나들며 활동하는 디렉터 Su 는 다채로운 문화예술 교류에 열정을 가지고 동서양의 조화로운 가교 역할을 하는 글로벌 프로젝트들을 진행하고 있습니다. 아트 & 디자인 스튜디오 Maison Suri 와 라이프스타일 브랜드 Suri Paris 를 운영함과 동시에 한국의 사모펀드에서 인터내셔널 디렉터로 프라이빗 컬렉션과 자산운용을 맡고 있습니다.
2022년 아트바젤 파리 개최에 발 맞추어 국제갤러리 파리지사를 오픈 및 운영하고, 같은 해 프리즈 아트페어 서울 상륙을 맞아 한국미술을 소개하는 몰입형 전시 프로그램을 선보였습니다. 이전에는 2018년 평창올림픽에서 VIP 프로젝트의 기업 파트너십 디렉터와 아리랑 국제방송에서 한국 문화예술을 소개하는 프로그램의 제작을 맡았으며, 현재에도 글로벌하게 활동하며 대사관, 문화원을 비롯한 정부 및 공공기관들과 해외 럭셔리 브랜드 등 다양한 국내외 기업들과 협력하고 있습니다.
미국 조지 워싱턴 대학교에서 미술사 학사를 수석 졸업하고 파리의 American University of Paris 와 소르본 대학, 뉴욕의 소더비 인스티튜트를 거친 학구적 배경과 더불어 예술에 대한 애정을 겸비한 컬렉터, 크리에이터 및 큐레이터로서의 Su는 새로운 세대에게 다양한 예술에 대한 참여의 길을 열어주고 미술의 가치를 진정성 있게 담은 환경을 만드는 데 기여하는 것을 목표로 하고있습니다.
@surisuy
Kunna Haan

Experiential Designer




Kunna is a Dutch experiential designer living and working across New York, Mexico City, Amsterdam and Seoul. Her work in experiential design consists in integrating multiple disciplines to create a memorable interaction and to enhance certain attributes in the overall experience, intriguing audiences through multi-sensorial encounters. Her strong drive is placed on the quality of the user experience and in creating culturally relevant solutions. Her multifaceted expertise in experiential design has led her to work in several projects internationally, spanning from Costumer Experience, Exhibition Design, Placemaking, Marketing Strategy & Branding as well as Set Design for the entertainment industry.






Art Curator

Valentina Buzzi is an Italian curator, project manager, writer, and academic researcher based in Seoul, with a specialization in contemporary art in institutional and diplomatic frameworks. In 2023 Valentina has been the artistic director of the Italian Pavilion ad the Gwangju Biennale, while forthcoming projects involve leading venues such as Art Sonje Center, with a major exhibition of Italian postwar & contemporary art, and the Venice Biennale (2024).

Valentina works in close collaboration with the Italian Cultural Institute, as well as several institutions and private galleries globally, connecting Korea to Europe, she is also Is the Head of Asian Development of the leading Italian start-up Reasoned Art, and writes for leading magazines such as Artsy, Plus Magazine, and Art Asia Pacific.

After a BA in Art History, an MA in Cultural Management & Policy, Valentina is currently finishing her Ph.D in Cultural Studies, with a focus on the intersection between cultural diplomacy & contemporary art in Korea. Valentina collaborates with Maison Suri since 2022 as a curator.



KUNNA HAAN
Experience Designer
.
NAWAL RAHMOUNI
General Manager Paris
A

NNA SUH
General Manager Seoul
.
SOOHEE BAE
Operation Manager
.
JOON KWAK
Sound Director
.